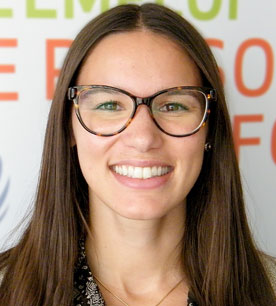 As a proud partner and new member of the Ontario Disability Employment Network (ODEN), SPHERE (Support for People with a Handicap Exploring the Road to Employment) is delighted to open a new Ontario office that will facilitate access to its services in the province. Now, Marilyne Lapierre (photo above), a Project Officer based in Ottawa, will give Ontario employment integration professionals access to an enhanced range of financial measures to support clients, in addition to those already in place.
With the benefit of an important annual budget from the Opportunities Fund for Persons with Disabilities, SPHERE is positioned as one of the major players in Canada supporting the employment integration of people with a physical, mental or intellectual disability. Currently operating in 6 Canadian provinces, last year the organization in collaboration with frontline partners supported nearly 900 Canadians in their journey towards employment. A number that continues to increase since 1997, when the first participants were served.
"SPHERE complements support already available in the network by promoting through various and flexible financial measures the elimination of barriers which may limit sustainable employment integration," says Nancy Moreau, the organization's Executive Director. The measures are accessible as part of individual employment integration project development, group training with workplace internships, self-employment or any other innovative project. "The aim is always to ensure employment professionals have the best tools so that clients can attain their goal," says Mrs. Moreau.
SPHERE distinguishes itself beyond wage subsidies or grants for living expenses during a company startup or pre-startup phase. In addition to providing tailored support, such as reimbursement for accommodation, transportation, coaching or professional fees, it covers a variety of other expenses, such as for childcare or safety equipment costs. In short, anything that helps overcome barriers to sustainable employment. A bonus that can be crucial for many clients.
To achieve their mission of cultivating the success of the greatest number possible of people served, SPHERE is very committed to project development across Canada, but also, above all working directly with its partners in the field: "We make sure to work hand-in-hand with frontline partners early on in a client's employment journey to evaluate together available opportunities, as their adaptability can be relatively broad. By agreeing at the beginning the best strategy and performing punctually a needs reassessment, we also achieve the best results, not only for the client's benefit, but also for the employer, the client's family and the wider community," says Marilyne Lapierre, Project Officer at SPHERE for Ontario.
For more information, please contact Marilyne Lapierre at 1 888 455-4334 or  m.lapierre@sphere-qc.ca.
̶– 30 –
About SPHERE: SPHERE (Support for People with a Handicap Exploring the Road to Employment) is a Canadian non-profit organisation promoting labor market access for people living with disabilities. http://sphere-qc.ca Funded by the Government of Canada through the Opportunities Fund for Persons with Disabilities.